VALUE, BENEFITS, FEATURES, SUCCESS
Prospecting
& Customer Mgt
Logistics
& Chain of Custody
Inventory
& Warehouse Mgt
Portal
For Customer & Salesperson
The
MAKOR ERP

™ is a powerful and innovative end-to-end software platform developed specifically for the unique requirements of IT Asset Disposition, Reseller and E-waste companies.
The MAKOR ERP™ provides IT Asset Disposition, Reseller and E-waste companies around the globe with state-of-the-art tools to automate the complex process of asset recovery and e-waste recycling, cradle to grave – from prospecting to pick-up, through production, into resale and downstream. The customizable Makor ERP™ platform is fully scalable, and able to support small, medium and large enterprises in both single and multiple locations.
By reviewing the feature set it will become clear that the Makor ERP™ is the most capable, proven solution on the market for your unique needs.
Prospecting & Customer Management
INFUSE CUSTOMER SERVICE WITH TRANSPARENCY, ACCURACY, AND DEPENDABILITY
A CRM built for your industry! The CRM is exactly what your ITAD, Reseller or E-waste company needs to better manage your leads and customers.
Drive Efficient and Accurate Handling of All Material
Automate Financial Settlement of Each Order
Know Exactly What is Going On and Everything You've Done Per Customer
Gain Full Understanding of the Profitability of Each of Your Customers
Motivate Your Sales Team with Real-time Revenue Reporting
Improve Customer Service with Automated Notifications and Portal Access
Prospecting
Activity Tracking
Integrated Web Site Lead Generation
Pipeline Reporting
Quotes
Generate Quotes
Review and Validate Delivered Equipment
Customer Management
Provide Customers with Portal Access
Setup Automated System Notifications
Email Automated Order Reports
Manage Document Libraries
Set Financial Preferences
Contract Management
Set-up Enforced Services
Establish Pricing to Automate Settlement
Processing Instructions
Enforced Disposition and Processing Rules
Status/Reporting
Order Status
Tracking of All Account Activity
Real-time Sales Commissions Reporting
"The Makor ERP™ is a huge source of confidence for our prospects moving forward with us. We market it hard to our accounts to demonstrate capabilities.  We show how the Makor ERP™ allows us to enforce what needs to get done, track what was done and open it up to our customers via the portal.  There are still a lot of our competitors operating like we used to and not able to promise this.  Our prospects see how we will deliver."
George Hinkle
ARCOA Group
President
LOGISTICS & CHAIN OF CUSTODY
TRANSFORM LOGISTICS INTO A KEY DIFFERENTIATOR (AND REVENUE GENERATOR)
The Makor ERP™ provides the tools needed to both optimize logistics execution as well as provide the transparency and paper trail needed for secure chain of custody management.
Real-time Chain of Custody Transfer Management
Clearly See What's Set to Arrive…and Leave the Warehouse(s)
Always Know Which Drivers and Resources are Available
Ensure Pick-ups Are at Capacity
Automate Pickup Document Creation (BOL/Manifests)
Generate New Revenue Via Logistics Tracked Services
Logistic Tools
Makor ERP™ E-Pickup App (w/Bar Codes, Signatures & Transfer of Custody)
Manage Schedules of Trucks and Resources
Calendars to View Available Trucks and/or Resources
Third-party Carrier Management
Generate Bar Code Labels for Pickup
Automatic BOL Generation
(cont)
Pickup Manifest Generation
Vicinity Pickup Optimization
Automated Customer Notification After Pickup
Manage Multiple Pickups Per Order
Custom Logistics Services
Customize Logistics Workflow to Manage Resources, Schedule and Customer
"By implementing the Makor ERP™ we have a tool now that the big guys have – a tool to manage the full chain of custody with accurate reporting.  Even though we are a small organization the Makor ERP™ allows us to play at a high-level."
Charles Brennick
Interconnection
President
PRODUCTION LIFECYCLE MANAGMENT
INCREASE THROUGHPUT AND GUARANTEE INVENTORY ACCURACY
The Makor ERP™ can be implemented to match and improve your processes for managing the inbound flow of IT Assets and eWaste through to its final disposition.
Increase Throughput by 50% or More*
Enforce and Track Services Performed
Guarantee the Accuracy of Inventory Data
Automate Reporting and Data Analysis
Reduce Reliance on Staff to Gain Throughput and Deliver as Promised
Receiving
R2/E-Stewards Mass Balance Tracking
Bar Coded Temporary Storage
Receipts and Certificate Generation
Scale Integration
Sorting
Fast-Tracked and Accurate Serialization
Data Security Processing
Manual and Automated Disposition Routing
Received Material Validation
Asset Bar Coding
High Value Part Sorting
Testing/Repair/Upgrade
Process Driven Testing/Repair
Data Security Processing
Tracked Upgrade/Harvest
Fully Configurable Testing Work Benches
R2/E-Stewards Compliance Plug-ins
BIOS Reader Integration
Automated Grading and Disposition Tools
Automated Pricing Engine
Pallet Tracking
Part Harvesting/Part Teardown
Precise Tracking of Parts Harvested
Work Queue Management for Part Check-in Experts
Teardown/Shred Management
Visibility to Teardown, Shred, and Bale Thresholds
Productivity Tracking of All Recycling Employees
Real-Time Certificates of Recycling
Automated Order Specific Report Generation
Receiving/Receipt/Weighmaster
Serialization
Detailed Audit
Data Security
Lot Mass Balance
Certificates: COR, COD, COS
*Based on customer feedback
"Implementing the Makor ERP™ has given us the ability to more easily track and complete projects end-to-end in a timely fashion. By using the platform while introducing some physical process changes, we have been able to consistently increase initial inventorying of assets by 50%, and in some cases more than double the throughput."
Jeff Brooks
Synetic Technologies
Business Analyst
SELL CONFIDENCE…DELIVER SECURITY
The data security management system within the Makor ERP™ is a supplement to in-house data erasure software systems such as Blancco, Securaze, Certus, SoftThinks, Extreme Protocol,  Aiken, WipeOS, White Canyon, BitRaser, Youwipe, Holmes, BlackBelt, and PhoneCheck. This process driven system is integrated with your inventorying process and implemented to elevate the level of data destruction/sanitization services and advance sales and marketing efforts.
Prevent IT Assets Being Inventoried Without Proper Data Wipe/Destruction Services
Ensure Proper Data Security Services Get Performed
Provide Advanced Reporting and Transparency on All Data Security Services
Easier to Obtain NAID AAA Certification and Remain Compliant with Less Hassle
Advance Marketing and Sales Efforts by Demonstrating Full Security Processes
Reduce Reliance on Staff to Ensure Quality Control of Security Processes
Customer Agreement Management
Enforce Execution of Proper Data Security Services
Enforce Specific Data Collection Requirements
Setup and Automate Service Fee Invoicing
Process Improvement
Auto-routing of Data Bearing Devices to Secure Area
Optimize Data Collection and Security Service Assigning
Optimize Hard Drive Harvesting and Installation
Track Service Status of EVERY Hard Drive Received
Integration with 3rd Party Diagnostic and Datasan Tools
Prevent Units Not Sanitized From Being Inventoried
Make Compliance Standards Easier to Enforce
3rd Party Wipe Validation Tool Integration
Data Security Service Reporting
Lock DownTM Data Security Audit Report
Certificate of Destruction (COD)
Certificate of Sanitization (COS)
Customer Portal Access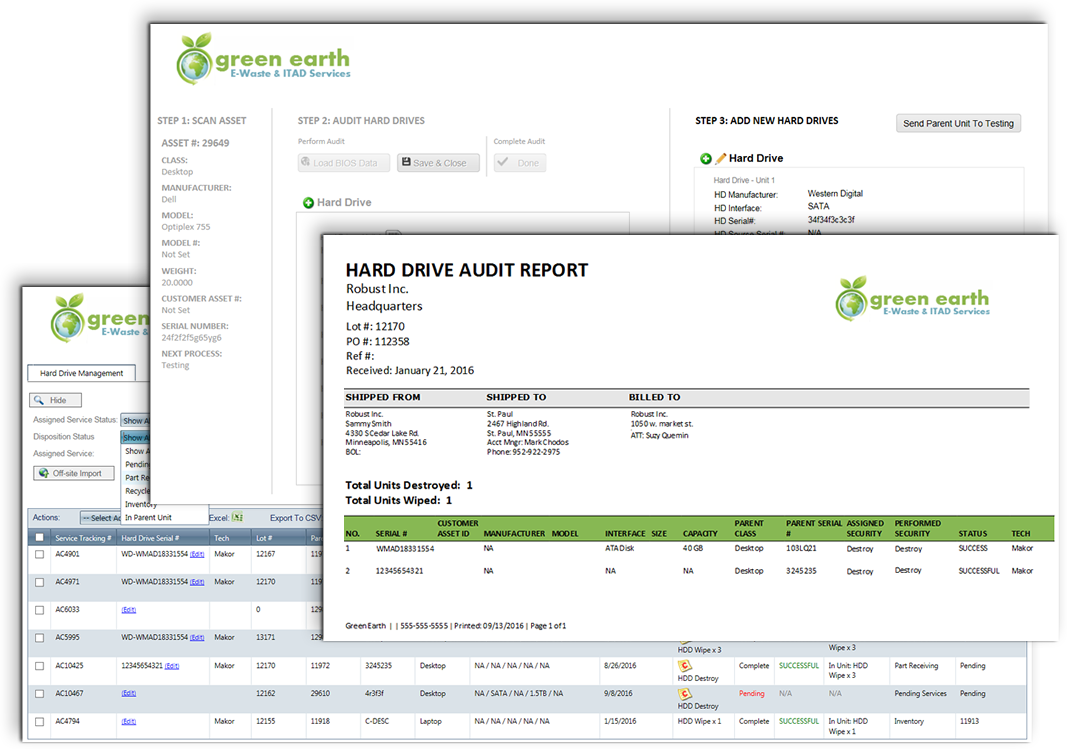 "The tight integration the Makor ERP™ has with BIOS/Data Erasure tools such as Blancco is hugely important for our data security commitments. The auto-populating of data greatly increases the rate at which data bearing assets can be processed.  The security and accuracy gains are immeasurable!"
Amanda Shepherd
Sage Sustainable Electronics
Reno Facility Manager
INVENTORY & WAREHOUSE MANAGEMENT
KNOW EXACTLY WHAT INVENTORY YOU HAVE…AND WHERE IT IS
Gain control of your inventory. By connecting the inventory and warehouse management tools listed below to the production life cycle management process, and order management systems the Makor ERP™ allows to manage inventory instead of chaos.
Significantly Improve Inventory Data Accuracy
Shorten the Time of Inventorying IT Assets and Parts
Sell Quicker by Expanding Visibility and Connecting to Multiple Channels
Expedite Maintenance and Fulfillment by Knowing Where Material Is
Gain Efficiencies with Simple and Flexible Bar Coding Systems
Succinctly Manage Multiple Warehouses
Inventory Management Tools
SKU Management
Inventory Aging Tracking and Management
Channel Assignment
Optimized Inventory Pricing Options
Precise Bid List Generation
Part Upgrade/Harvest Tracking
Cradle to grave tracking and Reporting
Reports and Dashboards
Channel Management
Fully Integrated into eBay
Omni-Channel Integrated
Lease Hold, Donation, Legal Hold Management
Redeployment / Customer Inventory Management
Warehouse Management Tools
Bar Coded Shelf/Floor/Rack Storage Management
Wireless Pallet Building
Smart, Rule-Based Pallet Building
Reconciliation Toolset
Cycle Count Support
Reports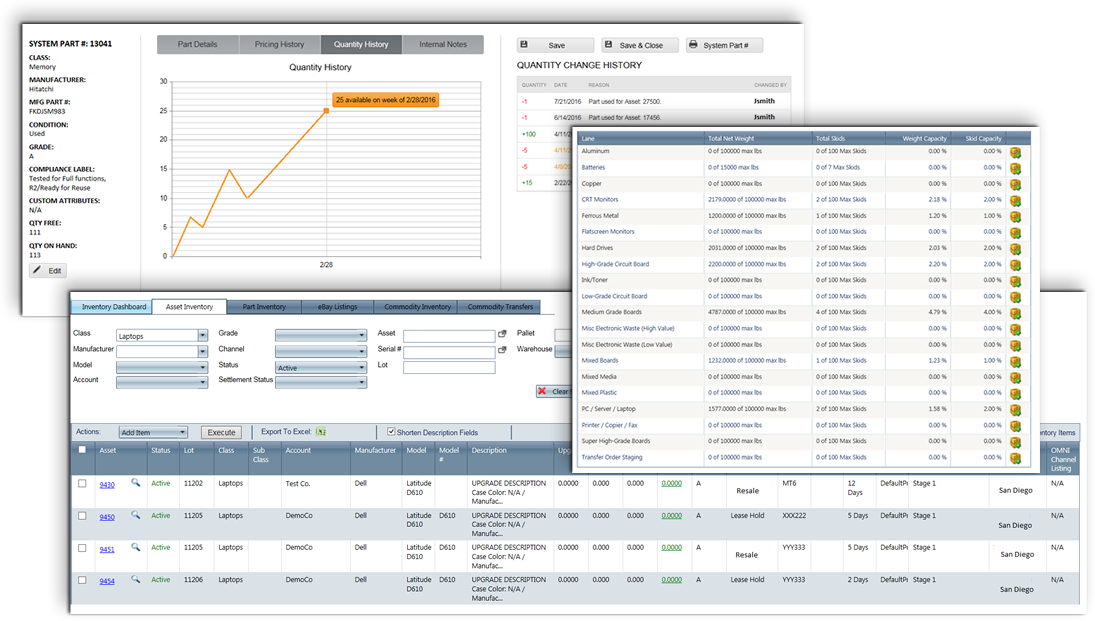 "The advanced parts inventory functionality (and associated reporting) available in the Makor ERP™ was hugely important to standing up our business."
Mike Leonard
Sage Sustainable Electronics
Parts Manager
Processing and selling electronics is the lifeline of your ITAD or electronics recycling business. The Makor ERP is complete with the tools you need to advance sales.
Reduce the Time From Order-to-cash with Automated Data Entry Eliminating Bottlenecks and Errors
Eliminate Billing Errors with Seamless Transition From Quote to Order Approval, Fulfillment and Invoicing
Drive Fulfillment Accuracy and Efficiency by Connecting the Production Life Cycle, Inventory, Sales, Finance and Fulfillment Teams
Start Selling Sooner as Visibility to Data Becomes Available Earlier in Process
Increase Visibility Publishing to Multiple Channels
Inbound Sales Management
Easy Order Setup to Schedule Material Pickups/Drop-offs
Establish Services, Pricing, Instructions, Material Routing and More
Auto-generation of BOL and Other Documentation
Automated Customer Service Notifications
Customer Portal Scheduling
Initiates Chain of Custody Transfer Process
Generates Logistics Queue for Additional Scheduling
Detailed Commission Tracking
Downstream Sales Management
Inventory Sales: Assets, Parts and Scrap
Custom Bid List Generation
Integrated POS
Wholesale Order Generation
Omni-channel and eBay Integration
Integrated Consignment Tracking
Fulfillment Services
Detailed Commission Tracking
RMA Management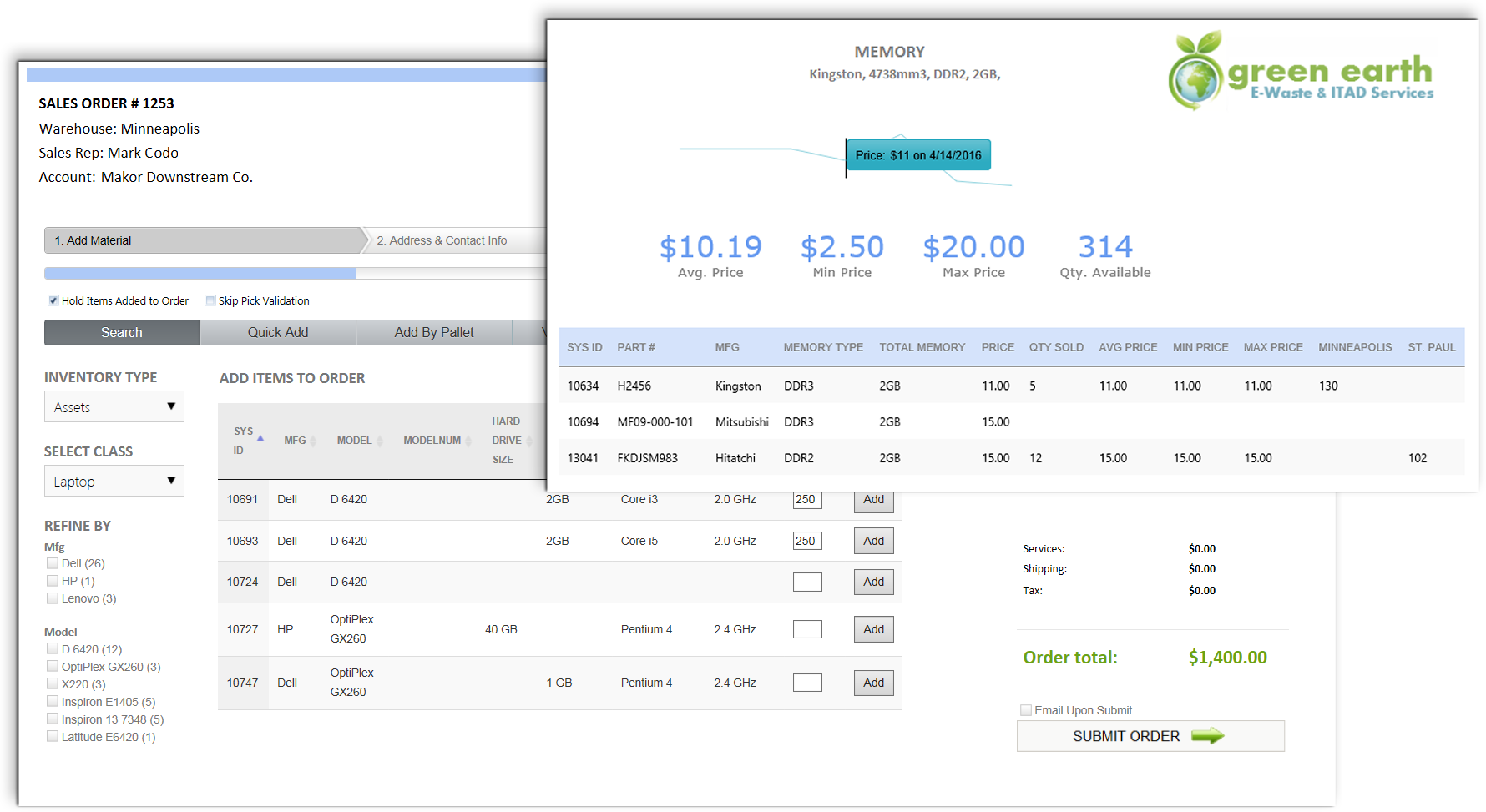 "The system has helped us manage downstream sales as we have grown from selling a few items a day on eBay to selling hundreds a day across four e-commerce platforms and a retail operation."
Steven Kaufman
Urban Mining
CEO
START FULFILLING YOUR POTENTIAL
The efficient handling of orders is key to your customer service experience. The Fulfillment and Shipping module within the Makor ERP™ is integrated with the inventory and ordering systems to guarantee timely updates of fulfillment tasks and easy shipping setup to make sure deliveries are made and promises are kept.
Assure Accurate Picking of Orders
Save Time by Auto-generating Pick Lists, Pack Lists, and BOL's
Maintain Better Ratings on Retail Channels Such as eBay
Improve Communication and Turnaround on Orders that Cannot be Fulfilled
Gain Efficiencies by Integrating with FedEx/UPS/USPS by automating Transfer of Order Data, Printing Labels, and Getting Best Rates
Generate New Revenue with the Implementation of Trackable Fulfillment Services
Fulfillment Tools
Pick/Pack Reports
Efficient Location Based Order Picking
Real-time Pick Status Updates
Validation to Ensure Proper Material in Order
Managed Substitutions
Package Management
Fraudulent RMA Protection
Fulfillment services tracking and Billing
Real-time Inventory Storage Updates
Fulfillment Services Engine
Shipping Tools
Shipment Creation
Carrier Management
BOL Generation
Full UPS/Fed-Ex Integration
eBay Shipping Status Integration
International Shipping Documentation
Historical Shipping Records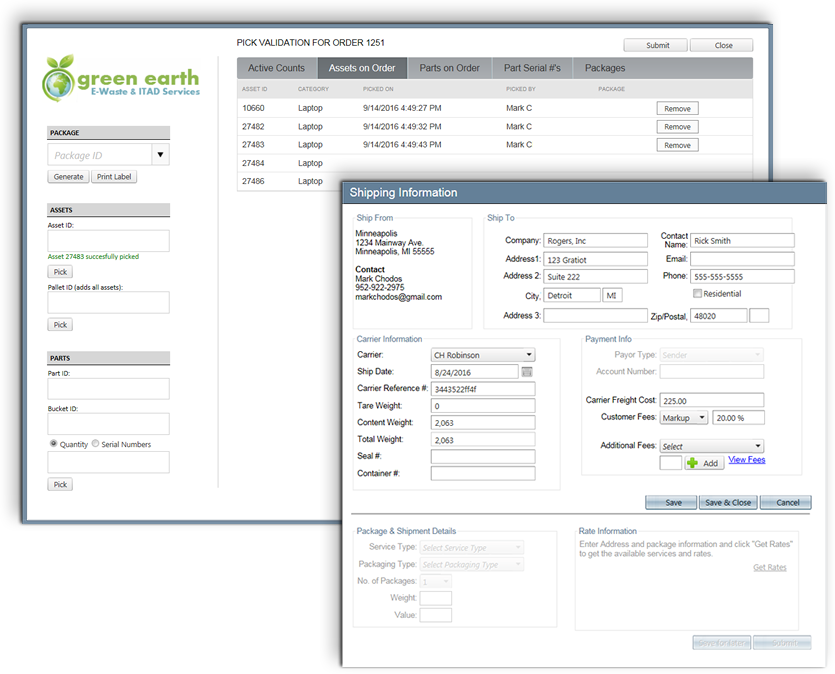 "The Makor ERP™ has driven fulfillment/delivery accuracy and efficiencies by connecting our production life cycle, inventory, sales, finance and fulfillment teams. Since each IT asset and part is has passed a guided audit and is verified by fulfillment during the order pulling process, we can be confident when providing a copy of the sales order or invoice to the customer that they are going to receive exactly what they will be billed for."
Matthew Anderson
ECS Refining, Recycling & Asset Management Solutions
IT Systems Specialist
DELIVER ON SLA'S, REDUCE TIME TO CASH, AND CREATE NEW REVENUE STREAMS
By running your customer management and production life cycle processes (receiving, sort, test) through the Makor ERP™ your billing and reporting will simply become a process of review, adjust, and communicate.
Cut the Time it Takes to Invoice by Almost 75%**
Track and Deliver on SLA Agreements
Win New Business by Offering Higher Value with Consignment (Even on Parts)
Automate Complex Billing and Reporting for Hard to Track Services
Mine More Useful Data
Financial Tools
Automated Invoicing
Billing Status Management
SLA Management
Bulk Invoicing Tools
High Volume Consignment of Assets, Parts and Scrap
Billing/Reporting Requirements Management
Inventory Order Approvals and Adjustments
Ledger Integration
QuickBooks
Great Plains
Navision
More on Request
Management Reporting & Dashboards
Customer P&L's
Automated Commission Reporting
Inventory, Sales and Performance Analysis Reports
Automated Order Specific Report Generation
Lot Mass Balance
Certificates: COR, COD, COS
Settlement/Invoice/Credit Memo/PO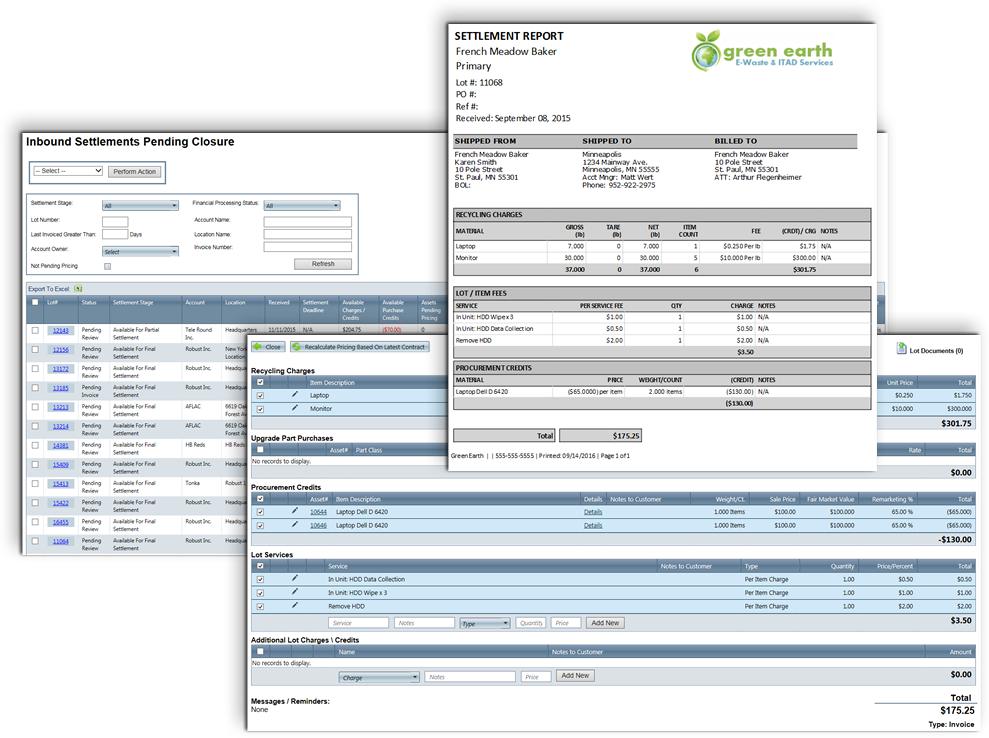 **Based on customer feedback
"We used to spend hours a day generating settlements only to hope that our calculations were correct and that we got the pricing right.  With the implementation of the Makor ERP™, billing has been automated and accurate.  It has eliminated an entire job and has opened up resources to manage other priorities for our company."
Kelly Smith
ARCOA Group
Operations Manager
BRING DATA TO LIFE TO FACILITATE A NEW LEVEL OF DECISION MAKING CAPABILITIES
Useful data can be used to create meaningful reports and dashboards. The Makor ERP™ facilitates both. By connecting each key business unit to the life cycle of a job, the Makor ERP™ collects clean, relevant data each step of the way to create vast, accurate and mine-able reports. These new reports bring the data to life facilitating a new level of decision making capabilities. How profitable is customer X? How productive is employee Y? How much do we have in stock of material Z? The accurate answer to these questions and many more are now at your fingertips. Given that each organization has its unique needs, the ability to create custom reports and dashboards is built in, either by you or by Makor Solutions.
Make Better Decisions
Measure Staff Performance
Standard Reporting
Management
Financial
Production Lifecycle
Inventory
Upstream Sales
Downstream Sales
Fulfillment/Shipping
Dashboards
Production Lifecycle Snapshots
Sales Snapshots
Profitability
Self-Service Reporting Module (SSRM)
Choose Data From Multiple Data Sources for Analysis
Create and Organize Visualizations and Formatted Reports
Share Insights with Everyone in the Organization
Custom Reporting
Custom Development Upon Request
Training to Write Own Reports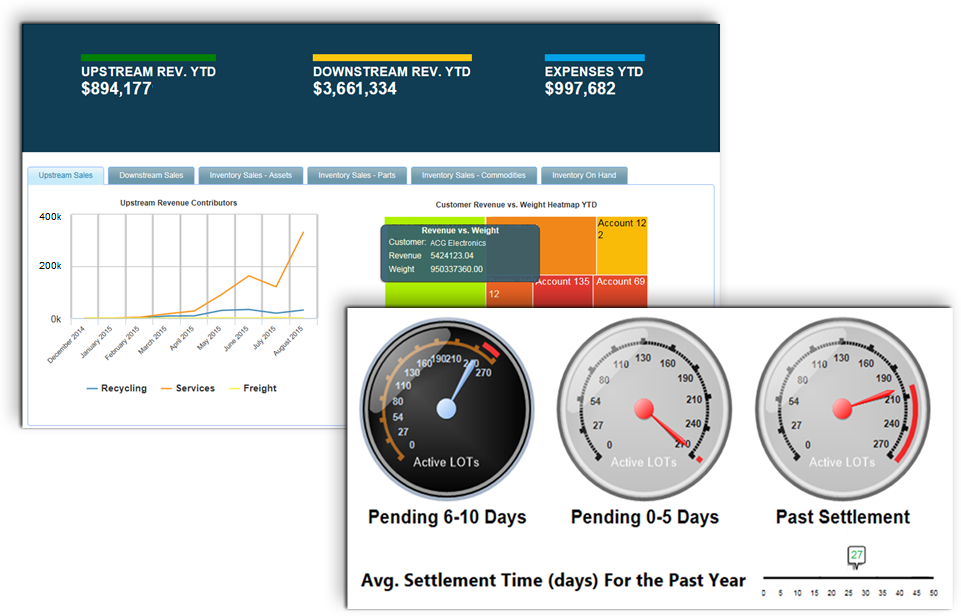 "Since implementing the Makor ERP™, we can tell exactly what our teardown line and technicians are producing.  Every week we run accurate production numbers to help us make better staffing decisions moving forward.  The reporting capabilities of the Makor ERP™ has also helped the senior leadership team come up with better budgets since we know what revenue is being generated from which sources.  Our fees as a result are very specific as opposed to just guesswork."
George Hinkle
ARCOA Group
President
Transparency in today's market is essential. It can greatly improve productivity and employee morale internally and build trust and confidence in customers and vendors externally. No one likes to be in the dark about their business. With this in mind, the Makor ERP™ offers multiple portals to accommodate the need to know now.
Improve Customer Service with Real-time Access to Order Statuses, Order Reports, and Specific Details About IT Assets
Reduce Resources Required to Maintain Customer Communication
Empower Customers with the Ability to Schedule Pickups
Be More Agile in Closing the Next Deal by Providing Roving Sales Team Access to All the Latest Customer Activity, Including Reports, Status's and More
Customer Portal
Privilege Based Access
Real-time Statuses
Order Specific Reports and Docs
IT Asset Specific Reports and Statuses
Ability to Schedule Pickups
Salesperson Portal
Privilege Based Access
Instant Access to Accounts From Anywhere
Real-time Statuses
Order Specific Reports and Docs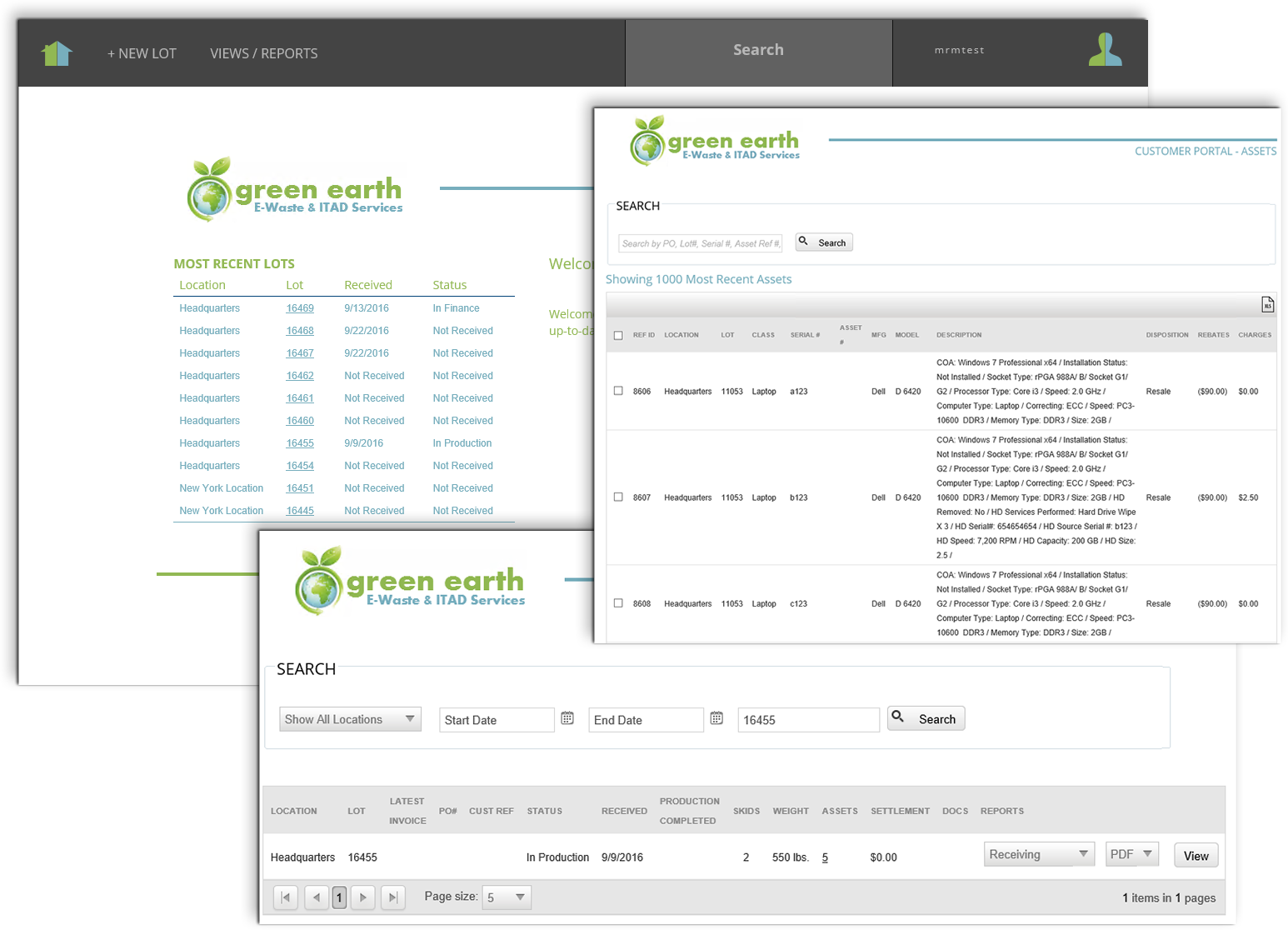 "Our top customers can go into the portal and see exactly what we have of theirs and where it is at.  It builds so much confidence because there is nothing hidden between the lines.  They can see it all.  This has built a lot of trust between us and our customers. The appearance of the portal really gives us a professional and advanced look."
Kelly Smith
ARCOA Group
Operations Director
INNOVATIONS THAT ARE ADVANCING THE MARKET
With countless success stories from over 100 companies worldwide, the Makor ERP is already hands down the most comprehensive and proven business software solution on the market for ITAD, Resellers and E-waste. Now, with the implementation of 3iTM, Makor Solutions is delivering innovations that are advancing the market and moving its customers to the next echelon.
Supplement the Core Makor ERP™ System with Premium Tools that Bring Even More Efficiency
Adapt the Software to Match Changing Needs with Custom Enhancements
Advanced Functions
Profitability Calculator
Disposition Routing – Hold Channel, Data Security and Inventory/Recycle Routing
Third Party Partner Processing Data Import
IT Asset Pricing Engine
Fulfillment Pick-by-Vision
Mobile Order Fulfillment with Guided Picking
Mobile Warehouse Management
Mobile Onsite ePickup
Self-Service Reporting Module (SSRM)
Fulfillment by Amazon Integration
Inter-site Material Transfer System
Customer, Salesperson, Vendor Portals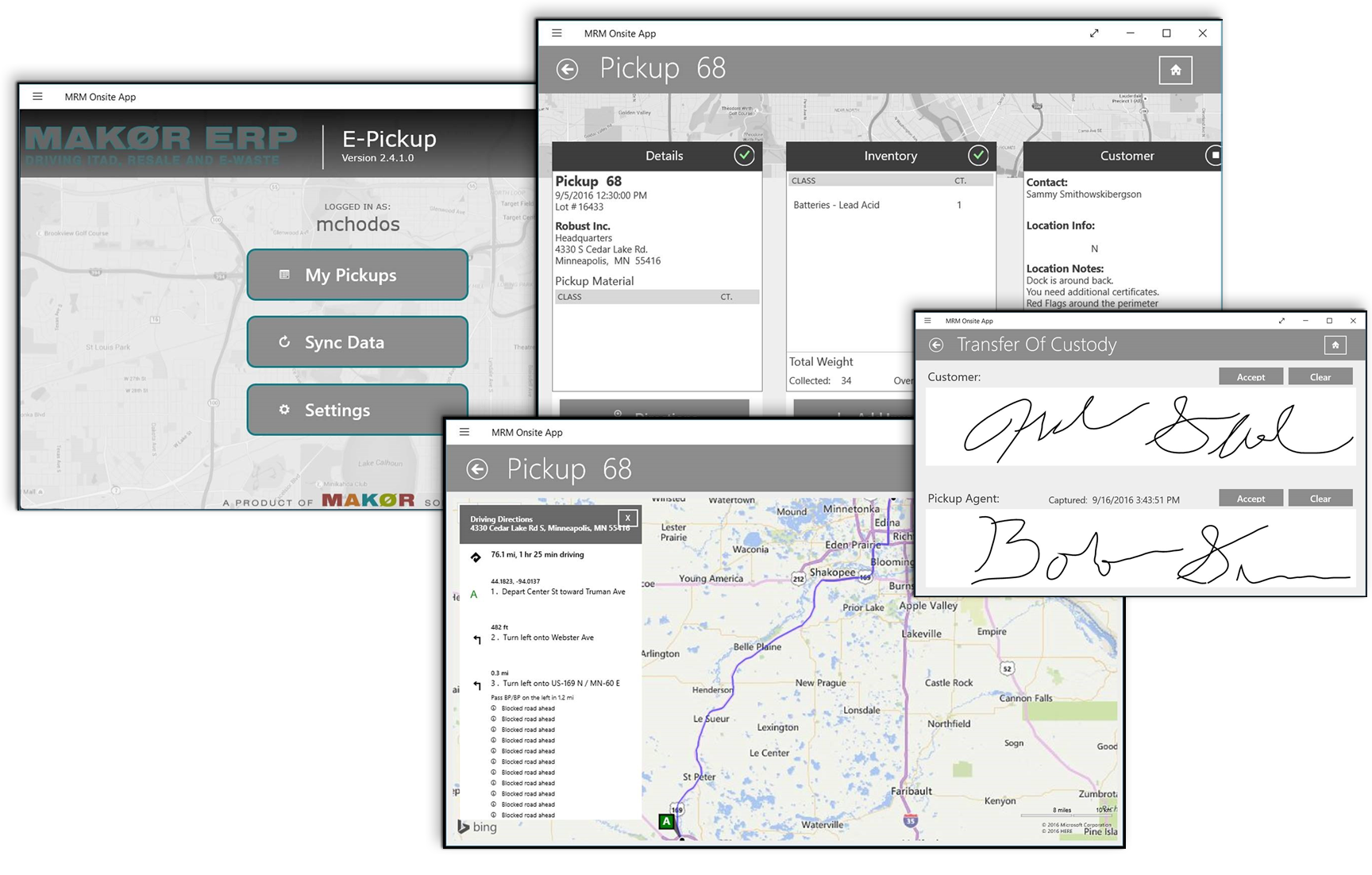 "Outside of the core functionality offered in the Makor ERP™, we also benefit from the continual advancements being added.  The automated Pricing Engine Matrix, for example, is an advanced tool we rely on to accurately price inventory automatically as it is being tested and audited.  Customers get credited and we have a better handle on the value of our inventory without any additional manual work!"
Dave Bernstein
Anything IT
President