Increase Throughput and Shorten Time to Billing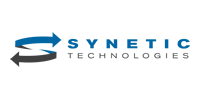 ABOUT SYNETIC TECHNOLOGIES:
Synetic Technologies is a global leader in Enterprise IT Asset Disposition (ITAD), Data Destruction, Value Recovery, and e-Waste Recycling Services. Since 1999, Synetic has supported Enterprises in the public and private sector with custom ITAD programs which make it easy to dispose of all IT assets responsibly. Synetic helps its clients securely recover value, comply with regulations, and achieve corporate sustainability initiatives, all while protecting them from the risks and complexities presented by decommissioned and off-network IT assets.
THE CHALLENGE:
In order to conduct daily operations Synetic Technologies was utilizing multiple systems to schedule, process, sell, report, store contract data, and receive payments. Prior to implementing the Makor ERP™, major problems manifested in the form of data loss, slower time processing equipment, difficulty collecting data for reporting, and a lag in customer billing.
THE SOLUTION:
The Makor ERP™ was selected to address these challenges. To kick things off, the Makor ERP™ Top Tier Implementation team met with Synetic Technologies to understand the business requirements, needed material flow and inventory setup. After this initial analysis, the implementation moved forward to connect each key business unit via a single database system to address the stated challenges.  This included the integration of the customer management console with the receiving and production life cycle management tools.  A few custom reports were written to provide an accurate view of the pending work in each of Synetic Technologies functional areas.  The standard production life cycle flow was also adjusted to accommodate the needs of one of Synetic Technologies highest volume customers to make sure everything flowed through the same processes. By setting customer requirements in a contract that dictated scheduling, receiving and processing for all jobs, Synetic Technologies would be able to better assure more efficient throughput of material without data loss and more accurate, timely billing.
THE RESULT:
Synetic Technologies is reporting tremendous efficiencies across the company since launching the Makor ERP™ to connect each key business unit to the same system.
"Implementing the Makor ERP has given us the ability to more easily track and complete projects end-to-end in a timely fashion," stated Jeff Brooks, Business Analyst at Synetic Technologies. "By using the Makor ERP™ platform while introducing some physical process changes, we have been able to consistently increase initial inventorying of assets by 50%, and in some cases more than double the throughput," he went on to say.
Using the robust Makor ERP™ platform, Synetic operators no longer have to transfer data from one system to another. Data loss is not existent. For billing and reports, most all of the data is available instantly upon completion of work – automating a majority of the invoicing and report generation. The time invested in completing full audit and settlement billing reports has been reduced by 20%.
Also, by connecting each key business unit to the same system, meeting SLA's and fulfilling orders has become more consistent. "The Makor ERP™ houses our bar coding and inventory storage locations within the same system we perform all production life cycle actions on.  As a result, staff can more quickly locate material and know what to do to complete upstream processing and fulfill downstream activities within schedule," concluded Mr. Brooks.